Parents, The Georgia Department of Education encourages opportunities for parents to provide input about their children's school. The link to the parent survey is below. Please take the time to complete the survey about our school. The survey closes on March 11, 2022.
https://gshs.gadoe.org/parents
Thank you!

Students that took the PSAT will be able to login to their College Board account beginning December 6 to see their scores. Students can also access their scores online via
https://studentscores.collegeboard.org
If a student did not provide an email address on their PSAT answer sheet, or if the email address they provided is incorrect, they will not receive an email with their access code.

The color guard is selling holiday candy grams now through Dec. 10. Candy grams will be delivered on Wed., Dec. 5 during 4th block. Forms can be picked up from Mrs. Brunson. All money and forms are due Dec. 10.

Sr. Beta will be sponsoring Hat Day on Friday, Dec. 3. Anyone wishing to wear a hat can purchase an armband for $1. All money raised will go towards the Children's Hospital in Columbus. Please see Mrs. Harnage if you have any questions.

The basketball game scheduled for Saturday will start with JV girls at 9:00 a.m. with JV boys to follow. Varsity girls will start at 11:30 with varsity boys to follow.

Basketball hosts their inaugural Alumni game today, events begin at 1:00. Admission is $3 and all proceeds go to benefit the boys and girls basketball programs. Don't miss out on this fun event.

FFA is collecting items to donate to children through the Children's Advocacy Center in Americus. We would like all students to get involved. The FFA would like to give a pizza party to the class that collects the most individual items to this cause. Items are due to the Ag. Shop by December the 10th.

We will be offering the ACT on our campus on March 8. If you are a high school student in grades 10-12 who needs to take the ACT, please sign up outside Mrs. Green's office. The cost of the test is $48. Sign up deadline is December 17.

Any student interested in becoming a manager for the boy's basketball team, please see Coach Scott.

Alumni Basketball Game Saturday, November 20, 2021 Activities Start at 1:00 p.m. $3 Admission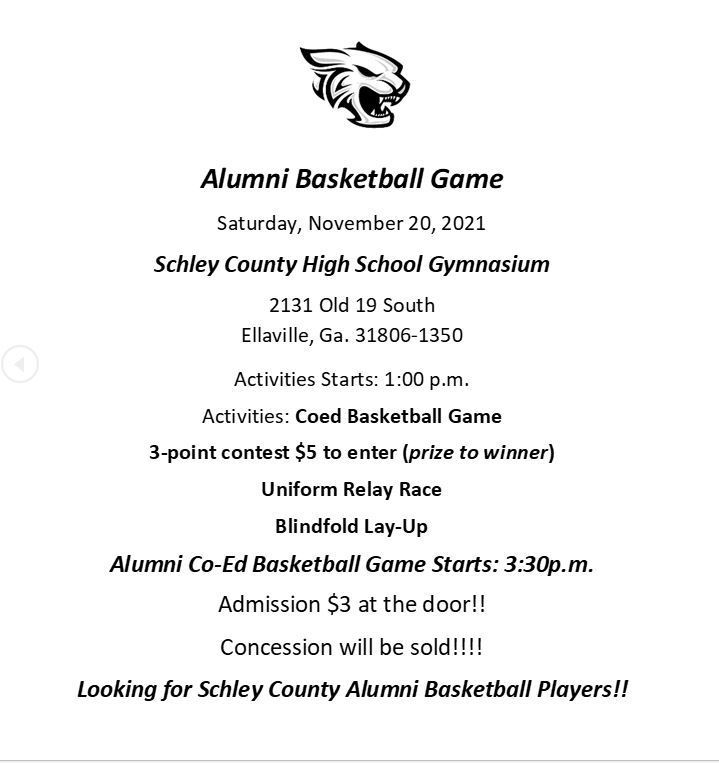 Basketball hosts their inaugural Alumni game tomorrow, events begin at 1:00. Admission is $3 and all proceeds go to benefit the boys and girls basketball programs. Don't miss out on this fun event.

Football plays in the sweet sixteen round of the playoffs tonight at Metter High School. If you cannot make the trip you can listen on 98.7 WISK. Admission is $10 and you can purchase online at the following link:
https://gofan.co/app/school/GA15921


Attention FCCLA Members...Please check your posts in the general channel of the FCCLA group in Teams. There is a form Mrs. Driver needs you to fill out as soon as possible. Also, please see Mrs. Driver to pick up your FCCLA t-shirt if you have not done so.

We will have a Concession Stand on Friday, November 19. Complete your order forms and return to the library by Wednesday, November 17.

FFA Members please sign up for the Christmas float parade by Wednesday.


Our competition cheer squad competes at sectional today with hopes of qualifying for state next weekend. Their session begins at 1:00 at Putnam Co. high school.

The Wildcats host the first round of the playoffs tonight. Kickoff is at 7:30, gates open at 6:30, tickets are $8 and can be purchased at the gate or online at
https://gofan.co/app/school/GA15921

Students wanting to take Work Based Learning, next semester, must submit an application by November 19. No applications will be taken after the 19th. Current Work Based Learning students do not have to submit a new application.